19 Sep

Val's story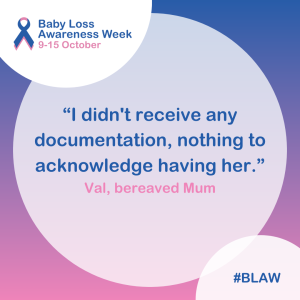 July 26th 1974, at 27 weeks pregnant I gave birth to baby girl. The nurse pulled 2 blue paper towels from a roll, wrapped my baby in one and placenta in the other and left the room with both.
Then I was taken to the ward with new mums and their babies.
I didn't receive any documentation, nothing to acknowledge having her.
It was classed as spontaneous abortion, not classed as ever being. Thank goodness things have changed but how I wish I had held her or had some validation of her being.
---
There are many organisations that offer support to anyone affected by pregnancy and baby loss.
Sands supports anyone affected by pregnancy loss or the death of a baby and works to save babies' lives. Contact their Helpline via phone (0808 154 3332) or email, or visit their Support Groups online or via Zoom.
Tommy's is the largest UK pregnancy and baby loss charity, funding research into stillbirth, premature birth and miscarriage. Dedicated to finding causes and treatments to save babies' lives as well as providing trusted pregnancy and baby loss information and support. For more information and support visit tommys.org