20 Sep

Lindsey's story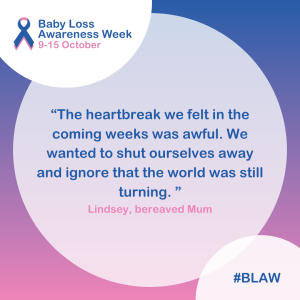 At 36 weeks pregnant I woke up one morning and couldn't feel my baby move. He was often less wiggly in the morning so I gave him a while and then phoned MAU who said to lie on my left side for 2 hours. I still hadn't felt him move and was asked to make my way to MAU. It was there my husband and I were faced with the words no parents want to hear 'I'm sorry there's no heartbeat'. Our precious boy had died. I had had a concealed placental abruption, there were minimal signs and it was too late when I was seen in a MAU.
The next 48 hours were a complete blur, we were sent home for a night and admitted for induction of labour.
The silence when he was born was deafening. No one knows how they will react and I was so scared to hold Lucas. Sounds crazy but I didn't want to hurt him and also didn't want to hurt myself. The heartbreak we felt in the coming weeks was awful. We wanted to shut ourselves away and ignore that the world was still turning. How could life still being going on.
---
There are many organisations that offer support to anyone affected by pregnancy and baby loss.
Sands supports anyone affected by pregnancy loss or the death of a baby and works to save babies' lives. Contact their Helpline via phone (0808 154 3332) or email, or visit their Support Groups online or via Zoom.
Tommy's is the largest UK pregnancy and baby loss charity, funding research into stillbirth, premature birth and miscarriage. Dedicated to finding causes and treatments to save babies' lives as well as providing trusted pregnancy and baby loss information and support. For more information and support visit tommys.org