15 Sep

Leigh's story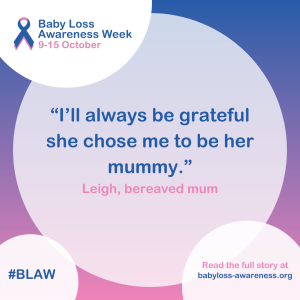 My beautiful daughter died in 2014 at Great Ormond Street Hospital from a rare heart condition.
She was 89 days old.
Since her death my life has changed irrevocably and the stepping stones taken in a daily basis are always done with her beside me.
The pain doesn't ease but you learn to live alongside it.
It's also made me feel the lows and highs of life so much more intensely and so I'll always be grateful she chose me to be her mummy. Xxx
---
There are many organisations that offer support to anyone affected by pregnancy and baby loss.
Making Miracles deliver a range of services including, professional counselling service for trauma and loss, baby trauma and bereavement care to the whole family. Contact them via phone (01622 735230).
Petals is the baby loss counselling charity, offering free specialist counselling to women and partners who suffer psychological distress from trauma and grief related to pregnancy or baby loss. They can be reached via their helpline (0300 688 0068) & via email.