20 Sep

Gemma's story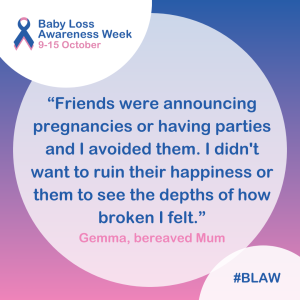 We've experienced 5 losses now. Our first being a delivered miscarriage, a living baby girl born in 2017 & 4 recurrent losses since her birth, our last being an Ectopic Pregnancy ending with chemotherapy treatment. After our little girl was born I often felt that we weren't expected to feel sadness or grief, that everything we'd already been through was meant to be magically fixed. But the truth is for the first few years of her life sadness was felt quite often. 2 years later when the losses started happening repeatedly, the sadness got even worse.  I started to withdraw from everything. Friends were announcing pregnancies or having parties and I avoided them. I didn't want to ruin their happiness or them to see the depths of how broken I felt. To this day we still feel that sadness, but that's our grief through Recurrent Loss. It'll always be something we carry because we loved so much.
---
There are many organisations that offer support to anyone affected by pregnancy and baby loss.
The Ectopic Pregnancy Trust focuses on early pregnancy loss through ectopic pregnancy. It is the only charity focusing on ectopic pregnancy in providing such extensive general information and peer support for anyone experiencing the condition. For more information and support visit www.ectopic.org.uk.
Tommy's is the largest UK pregnancy and baby loss charity, funding research into stillbirth, premature birth and miscarriage. Dedicated to finding causes and treatments to save babies' lives as well as providing trusted pregnancy and baby loss information and support. For more information and support visit tommys.org