19 Sep

Gabrielle's story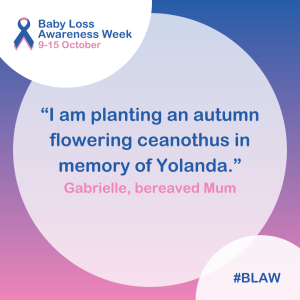 I am currently recovering from post haemorrhagic anaemia from a miscarriage. I had nurtured and nourished this bean, and yes, even given my baby a name.
I am planting an autumn flowering ceanothus in memory of Yolanda.
I need to grieve, and whatever the reason for a pregnancy to end, there is a stage past which the pregnancy flicks on switches that cannot be turned off or helped healed without grief, in my experience.
---
There are many organisations that offer support to anyone affected by pregnancy and baby loss.
Petals is the baby loss counselling charity, offering free specialist counselling to women and partners who suffer psychological distress from trauma and grief related to pregnancy or baby loss. They can be reached via their helpline (0300 688 0068) & via email.