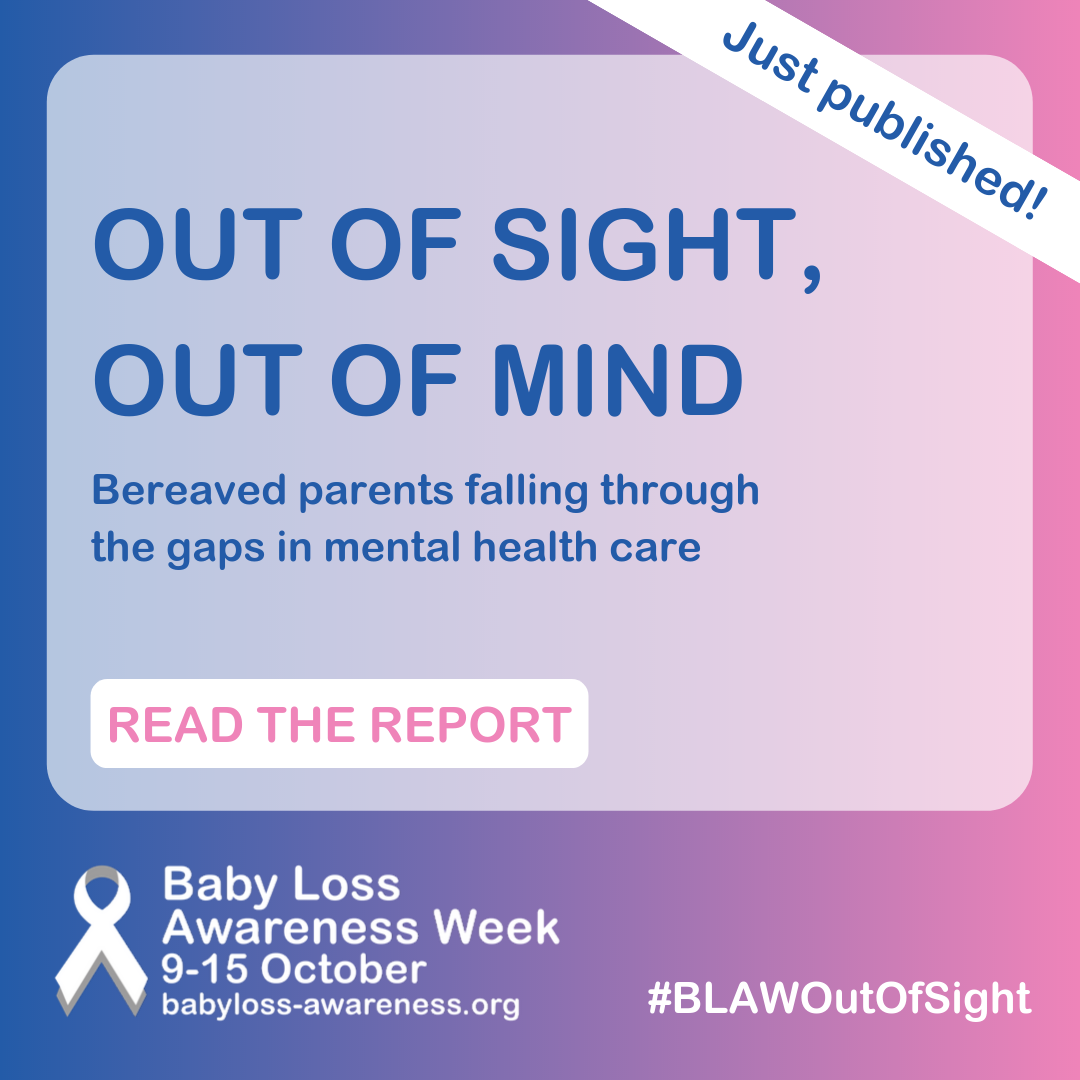 08 Oct

Bereaved parents falling through the gaps in mental health care

Our report Out of Sight, Out of Mind: Bereaved parents falling through the gaps in mental health care  published today reveals that 60% of bereaved parents surveyed felt they needed specialist psychological support for their mental health, but were not able to access it on the NHS.

Even when parents did meet the inclusion criteria, and waited months to access support, they then found there was no-one in their local area with the specialist skills and knowledge needed to provide it. And those bereaved parents who were able to get psychological support, often had to attend clinics where they were surrounded by families with live babies.

The Baby Loss Awareness Week Alliance is now urging Government and the NHS to ensure that anyone who needs specialist psychological support following pregnancy loss or the death of a baby can access it, free on the NHS, wherever and whenever they need it.

Dr Clea Harmer, Chief Executive of Sands (stillbirth and neonatal death charity), said: "Grief is a natural response to the devastating experience of losing your pregnancy or the death of your baby, and charities like Sands are here to offer support. However, many bereaved parents do go on to experience psychiatric illnesses that require specialist mental health services.

"Recently there has been strong political support for improving care for pregnant women and their families. Action now needs to be taken to ensure that improvements to maternity, perinatal and mental health services do not exclude those parents who've experienced pregnancy or baby loss and need access to good quality psychological support on the NHS.

"Bereaved parents are telling us they struggle to access psychological support – that waiting lists are too long and services lack the specialist skills and knowledge to support them. This is clearly unfair but it is not too late; decisive action could have a huge positive impact for those parents who experience a mental health problem following pregnancy or baby loss.

"We believe that Governments and the NHS can make a real difference for bereaved parents across the UK, if they give specific attention to those who have experienced pregnancy or baby loss when planning, funding and delivering psychological support services."

The Alliance have put forward a set of recommendations, including:
Governments across the UK to undertake a review of current provision including an evaluation of models of best practice, involving parents and professionals.
National guidance to help the NHS plan, fund, and deliver specialist psychological services.
Training for GPs and other frontline healthcare workers to understand to understand and assess the risk of bereaved parents developing a psychiatric illness.
You can help make a difference by getting involved in the campaign – sign up for e-news updates, follow #BLAW2019 on social media and help break the silence about pregnancy and baby loss.
If your baby has died or you have been told to expect that they may die soon, we are so sorry. Find out about the bereavement support available for you and your family, whenever you need it.