19 Sep

Ashleigh's story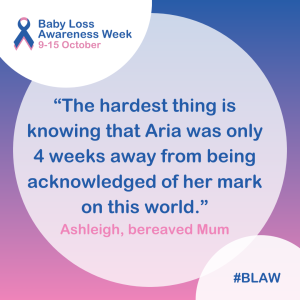 The hardest thing is knowing that Aria was only 4 weeks away from being acknowledged of her mark on this world, being 20 weeks gestation.
We had no birth & death certificate and 'abortion' was put on my records, instead of TFMR. I always say she was stillborn because she was born, I laboured just like I did with her brother (her sister was elective c section).
5.5 years on and we still grieve for the life she should of had with her x
---
There are many organisations that offer support to anyone affected by pregnancy and baby loss.
ARC offers support for bereaved families who have experienced a TFMR.
Tommy's is the largest UK pregnancy and baby loss charity, funding research into stillbirth, premature birth and miscarriage. Dedicated to finding causes and treatments to save babies' lives as well as providing trusted pregnancy and baby loss information and support. For more information and support visit tommys.org