19 Sep

Suzanne's story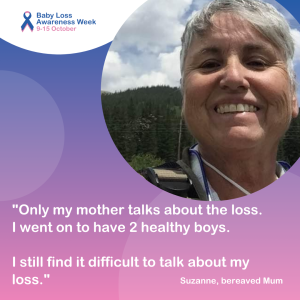 In December of 1972 at the age of 24 I gave birth to a boy. 5 weeks early. 5lbs 10z. He died about 36 hours later. This is almost 50 years ago.
Only my mother talks about the loss.
I went on to have 2 healthy boys. I still find it difficult to talk about my loss.
---
There are many organisations that offer support to anyone affected by pregnancy and baby loss.
Tommy's is the largest UK pregnancy and baby loss charity, funding research into stillbirth, premature birth and miscarriage. Dedicated to finding causes and treatments to save babies' lives as well as providing trusted pregnancy and baby loss information and support. For more information and support visit tommys.org.
Sands supports anyone affected by pregnancy loss or the death of a baby and works to save babies' lives. Contact their Helpline via phone (0808 154 3332) or email, or visit their Support Groups online or via Zoom.