19 Sep

Sierra's story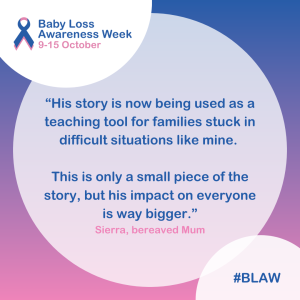 Due to an extremely high-risk pregnancy, I was stuck giving birth to my son at 22 weeks at Mission Hospital in Asheville, NC.
The subchorionic hematoma in my uterus was twice the size of him and ended up putting both of us at risk so we did the impossible and decided to deliver him via cesarean on March 3oth. The doctors weren't very sure about his survival and gave him a less than 10% chance at delivery but he proved them wrong. He took his first breath at 8:31 am and he fought for 18 hours.
He passed away on March 31st at 3:10 am but he was a miracle.
He has made history as the only baby that survived being delivered that early at Mission Hospital and I am so proud to be the mama of this little angel.
His story is now being used as a teaching tool for families stuck in difficult situations like mine. This is only a small piece of the story, but his impact on everyone is way bigger.
May he rest in peace.
---
There are many organisations that offer support to anyone affected by pregnancy and baby loss.
The Lily Mae Foundation provides much needed support to parents and families who have lost a baby to stillbirth, neonatal death, miscarriage or medical termination.
Tommy's is the largest UK pregnancy and baby loss charity, funding research into stillbirth, premature birth and miscarriage. Dedicated to finding causes and treatments to save babies' lives as well as providing trusted pregnancy and baby loss information and support. For more information and support visit tommys.org.