20 Sep

Sarah's story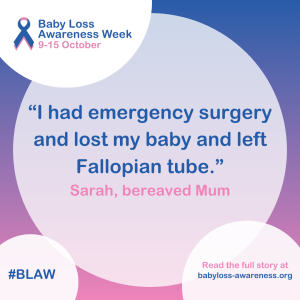 My quest to wanting a baby stemmed from my teenage years after my mum died suddenly. I suspected I may have issues conceiving due to PCOS (Polycystic ovary syndrome).
Although I had been to the doctors, there was very little help and support.
After seven years we were referred to a fertility clinic and I was prescribed Metformin and I got pregnant . We were so shocked and I couldn't have been happier.
However, after two days of excitement and disbelief I started spotting. I assumed I was miscarrying so left it. Another week passed, and I was still bleeding. Pregnancy tests weren't progressing. We went to our GP (general practitioner) and saw a nurse who said it was common to bleed and that this was my 'miracle baby'. She did a hCG (a hormone produced during pregnancy) blood test. My GP called me and said my hCG levels weren't rising properly and that I needed to go to the early pregnancy unit. There they told me that I was having a miscarriage, but later it was found they had misdiagnosed me and I had emergency surgery and lost my baby and left Fallopian tube.
---
There are many organisations that offer support to anyone affected by pregnancy and baby loss.
The Ectopic Pregnancy Trust focuses on early pregnancy loss through ectopic pregnancy. It is the only charity focusing on ectopic pregnancy in providing such extensive general information and peer support for anyone experiencing the condition. For more information and support visit www.ectopic.org.uk.
The Miscarriage Association   offers support and information for anyone affected by miscarriage, ectopic pregnancy or molar pregnancy with helpline, live chat, email service and online support available.
Helpline: 01924 200799 (Mon-Fri, 9am-4pm)