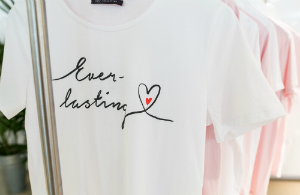 15 Oct

M&S raise £32,000 to help support Baby Loss Awareness Week

We want to say a big thank you to Marks and Spencer for supporting Baby Loss Awareness Week through the sale of a special t-shirt and candle, raising £32,000 to help support Baby Loss Awareness Week.

The t-shirt and candle were designed by Amy Mott, a buyer at M&S who has been personally affected by baby loss. and wanted to help raise awareness and encourage open conversation about this difficult subject.

Amy said: "Having been affected by baby loss I wanted to break the silence around the issue and get everyone talking about baby loss during the awareness week.  My design on the T-shirt and candle is a meaningful tribute of the everlasting love that is felt for a baby and can be worn in support of this fantastic platform that offers advice and acts as a support network."

Both items proved very popular and although the candle is now sold out we are happy to confirm that the t-shirts are back on sale.

Thank you to everyone who bought a t-shirt or candle to show their support for Baby Loss Awareness Week – including Twiggy!