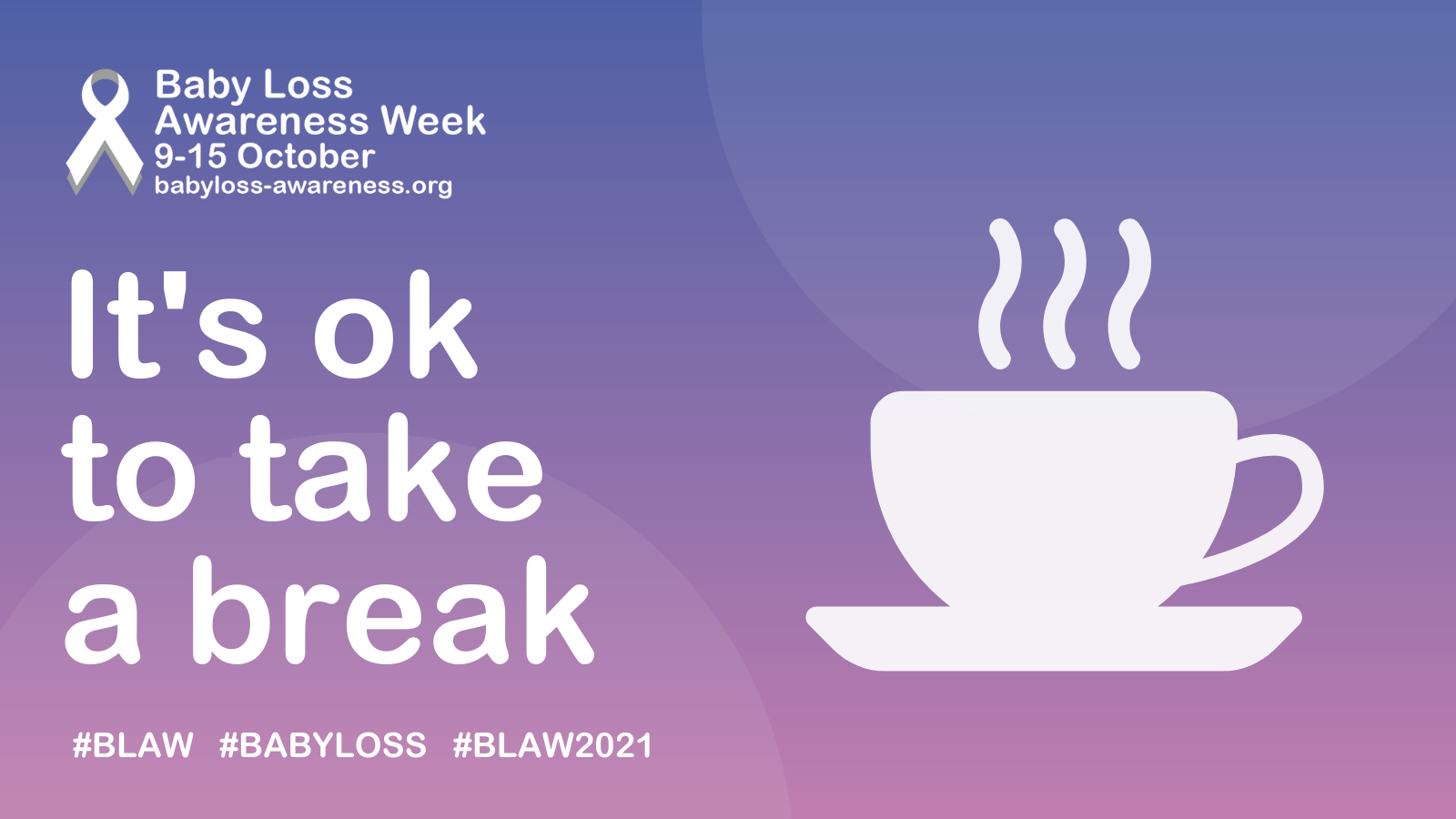 06 Oct

Looking after your wellbeing during Baby Loss Awareness Week

Baby Loss Awareness Week is a wonderful way for everyone in society to acknowledge the lives of babies gone too soon, as well as raise awareness of the needs of bereaved families. With the fantastic growth in the numbers of people getting involved, it is important to acknowledge that more people will need to be mindful of the impact such an intense time spent talking, reading, watching or listening to stories of loss can have on their wellbeing.

Preparation is key

Whether it be for a marathon or for a job interview, everyone benefits from preparing for situations that will be demanding and rewarding in equal measure. As Baby Loss Awareness Week approaches, it may help to plan activities around the events that you will be part of, where you have the opportunity to share your thoughts with a friend and reflect on how participating has left you feeling.

Healthy body, healthy mind

Making sure you have enough sleep and a healthy diet before, during and especially after group events that are emotionally intense is an important way to exercise self-care. Physical activity is a good way to for our bodies to release feel-good neurochemicals. Exercise can also ensure you allow for time away from the huge influx of information, images and stories that you may come into contact with during the Week.

Pace yourself

Baby Loss Awareness Week consists of several consecutive days of events themed around different aspects of baby loss, culminating in the Wave of Light event. This means that you may find yourself involved in many conversations that are emotionally intense, with little space in between. Taking time in between talks or events can help you to gather yourself between activities.

Phone a friend

A walk, phone call or joint activity where you sit alongside someone who understands your investment in the Week will allow for a valuable space to tune in to how you feel. Sharing why the Week matters to you and how you feel part of the charities making a difference can open up conversations that may have been awkward before. Exploring the Week together could bring other people to join you as supporters, even if they are not affected by baby loss in the same way as you. If this is difficult, you can always ring the Sands Helpline – 0808 032 664 or find other sources of support from Baby Loss Awareness Week member organisations.

Be part of the journey

Baby Loss Awarness Week began 19 years ago with handful of bereaved parents who chose to acknowledge the loss of their babies publicly and encourage others to do the same. While seeing many thousands of people finding ways of coping with pregnancy and baby loss can feel overwhelming, remember that in 2021, there is a large network of orgnisations dedicated to supporting parents and families, and the way that baby loss is thought and talked about has grown in compassion, support and care from communities worldwide. Your support is what has made this change possible.

Practice Mindfulness

When an event takes place, it can be an immensely positive experience to connect with others and share your story in a safe space. Afterwards, it may be difficult to get back to day to day life and feel there are fewer people who understand or know your story. If the prospect of being your everyday self is difficult once the feelings around your loss have emerged, it can help to notice this and note it down, safe in the knowledge that the worry will come and go and there are ways for you to reach out for support.
---
We'll be sharing tips on looking after yourself and others throughout Baby Loss Awareness Week and beyond. Follow #BLAW2021 on social media and if you'd like to, please share what you've found helpful so we can all support each other as a community.