19 Sep

Jenny's story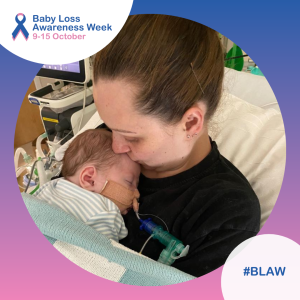 Freddie was born healthy at 38 weeks and 3 days weighing 9lb 1oz.
At 3 weeks old, Freddie caught a cold which turned out to be RSV and bronchiolitis. We took Freddie to hospital as his breathing became bad. When we got to the hospital he had stopped breathing and was unresponsive. The doctors at Blackburn Hospital managed to resuscitate Freddie but he had suffered severe brain stem damage due to lack of oxygen to the brain.
Freddie spent 18 days on the PICU at RMCH. Due to the severity of the brain damage, Freddie had no cough, gag or swallow and had erratic breathing patterns which meant he wouldn't be able to come off the ventilator. We had no choice but to let him go.
Freddie died at 6 weeks and 2 days old. He will forever be in our hearts.
---
There are many organisations that offer support to anyone affected by pregnancy and baby loss.
The Lily Mae Foundation provides much needed support to parents and families who have lost a baby to stillbirth, neonatal death, miscarriage or medical termination.
Petals is the baby loss counselling charity, offering free specialist counselling to women and partners who suffer psychological distress from trauma and grief related to pregnancy or baby loss. They can be reached via their helpline (0300 688 0068) & via email.