19 Sep

Helen's story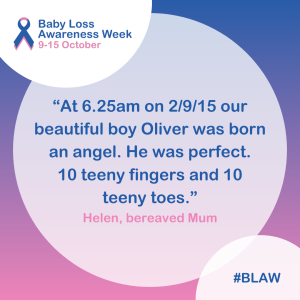 I found out I was pregnant in May 2015 – it was a complete surprise but we were so excited. Our 12 week scan went brilliantly and no problems were detected, however at our 20 week scan we heard those heart-wrenching words 'there is no heartbeat.'
We had suddenly gone from feeling utter excitement at finding out the gender of our baby to utter devastation. Numbness is the only way to describe how I felt! The next 24 hours were horrific. I had to go through labour knowing that our baby was sleeping. At 6.25am on 2/9/15 our beautiful boy Oliver was born an angel! He was perfect! 10 teeny fingers and 10 teeny toes.
No cause was ever found for why this happened. However, I like to believe that he was just too precious for Earth! We've since had 2 beautiful children – our rainbow Orla and our baby Neve. I count my blessings every single day and know that our boy is always with us. 7 years later and the pain never goes but you definitely find ways to cope!
---
There are many organisations that offer support to anyone affected by pregnancy and baby loss.
Tommy's is the largest UK pregnancy and baby loss charity, funding research into stillbirth, premature birth and miscarriage. Dedicated to finding causes and treatments to save babies' lives as well as providing trusted pregnancy and baby loss information and support. For more information and support visit tommys.org.
The Miscarriage Association provides support and information for anyone affected by miscarriage & molar pregnancy through their helpline (01924 200799) , live chat, and email. Anyone affected by pregnancy loss or the death of a baby and works to save babies' lives. Contact their Helpline via phone (0808 154 3332).