28 Sep

He Lost His Baby Too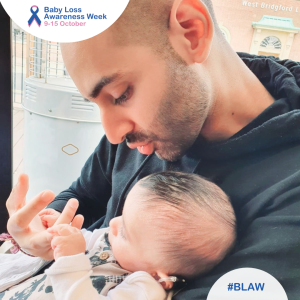 He may not say it, he may not show it, he just isn't programmed that way
But his heart is broken, and he too carries the grief, through every moment, of every day
He lost his baby too
He wipes away her tears, then when no-one's around he sheds his own
He'll grieve in his own way, in his own time and often, he'll grieve alone
He lost his baby too
He says he's ok, he's fine, keeping busy, just tired
As if creating that false pretence is an act to be admired
He lost his baby too
He'll try to be strong, because that's a rule of masculinity, right?
He doesn't know it's safe to show emotions, so he keeps them out of sight
He lost his baby too
He had envisioned a life with his child, visions that never came
He didn't physically carry their baby but, he carries this absence all the same
He lost his baby too
He'll go back to work, probably before his mind is in the right place
And people will think he's doing better because he's gone back but, that really isn't the case
He lost his baby too
He won't say if he's struggling and, 'how is dad doing?' isn't something that people generally ask
He doesn't know how to respond so he hides behind his armour, hides behind his mask
He lost his baby too
He's become a master of hiding, he's perfected that disguise
But you'll see unspoken pain, if you look deep into his eyes
He lost his baby too
So to all the dads grieving, rest, take the time you need to take
What you feel is completely normal, you're safe, it's ok for you to break
You lost your baby too
---
There are many organisations that offer support to anyone affected by pregnancy and baby loss.
Sands supports anyone affected by pregnancy loss or the death of a baby and works to save babies' lives. Contact their Helpline via phone (0808 154 3332) or email, or visit their Support Groups online or via Zoom.