19 Sep

Hayley's story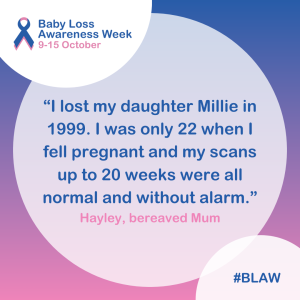 I lost my daughter Millie in 1999. I was only 22 when I fell pregnant and my scans up to 20 weeks were all normal and without alarm.
It wasn't until I got to 31 weeks and I hadn't felt her move that I started to worry, I was told I had a lazy baby don't worry, I was sent to hospital and that's when they found Millie was very poorly.
I was airlifted to a London hospital without my family Who had to travel by car and gave birth to Millie via c-section on my own.
I didn't see Millie as she was taken from me to the specialist doctors. It wasn't until some time later I was informed that after 40 minutes of trying to help her, she died without her mum being there, this still haunts me that I wasn't there. I feel so guilty. I was then placed on a maternity ward and had to pass all the other women with their babies, this again haunts me.
I was sent home with no offer of counselling or help and believe this has impacted me my whole life.
I miss my daughter. Time is a healer but you never forget.
---
There are many organisations that offer support to anyone affected by pregnancy and baby loss.
Sands supports anyone affected by pregnancy loss or the death of a baby and works to save babies' lives. Contact their Helpline via phone (0808 154 3332) or email, or visit their Support Groups online or via Zoom.