19 Sep

Emma's story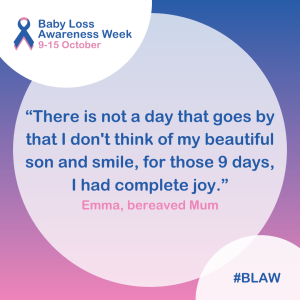 In 2005 when I was 24yrs old my son at 9 days old died unexpectedly in my bed. I woke to his cold lifeless body next to me.
We tried endlessly to revive him, and so did the paramedics and hospital staff. I quite honestly do not know how I've survived this ordeal. Life did go on for me and I went on to have 3 more healthy children. The mental effects of losing Brodie live with me every day.
The whys and what-ifs haunt my day to day life. It is nothing short of a sentence for any parent. I reached 10 yrs and made peace with myself as I held myself totally accountable. I try and believe he wasn't made for this world and he was saved from illness and suffering as were we.
There is not a day that goes by that I don't think of my beautiful son and smile, for those 9 days, I had complete joy.
One day my questions will be answered and I'll understand why.
---
There are many organisations that offer support to anyone affected by pregnancy and baby loss.
The Lullaby Trust provides bereavement support to anyone affected by the sudden and unexpected death of a baby or young child. Contact their Helpline via phone (0808 802 6868) or email support@lullabytrust.org.uk.