19 Sep

Anna's story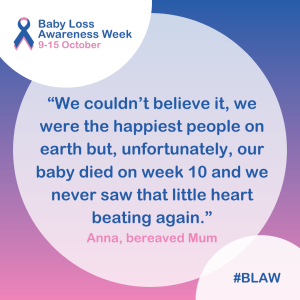 After waiting for almost two years for this pregnancy to happen, after so many prayers, tears, so many sleepless nights, hundreds of appointments and scans, tonnes of hormones and injections, finally our first-ever baby showed up on the pregnancy test. We couldn't believe it, we were the happiest people on earth but, unfortunately, our baby died on week 10 and we never saw that little heart beating again.
This was the hardest thing I had ever been through. That little life was inside me and changed me…he or she had a lesson to teach me and he or she will always be part of my life whether I knew about him or her for 3 weeks or 3 months.
I will always love you…
---
There are many organisations that offer support to anyone affected by pregnancy and baby loss.
The Miscarriage Association provides support and information for anyone affected by miscarriage & molar pregnancy through their helpline (01924 200799) , live chat, and email. Anyone affected by pregnancy loss or the death of a baby and works to save babies' lives. Contact their Helpline via phone (0808 154 3332).