12 Aug

Clara's Story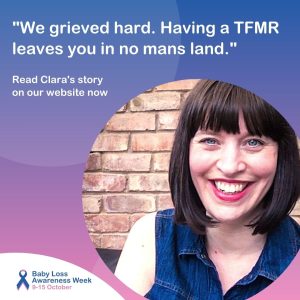 Having experienced a MMC (missed miscarriage) the year before, finding out we were pregnant was an exciting yet worrying time. After our 13-weeks scan we relaxed and shared the news.
However, at our 20-weeks scan, we discovered that our baby had Potters Syndrome. After numerous scans we discovered there were no working kidneys; they were incompatible with life.
Whilst we were told we would be supported if we wanted to continue with the pregnancy, there was no way we would be bringing our little one home. Their lungs would develop enough during the pregnancy, and they would not survive once they were born.
We made the decision to induce, it seemed the kindest thing to do all round. We had a little boy; perfectly formed and were able to stay with him under we were ready to leave.
We grieved HARD. Having a TFMR (termination for medical reasons) leaves you in a no man's land.
Had I waited, I would have a still-born child, or even worse, watched him pass once born, yet many thought this was our choice.
It wasn't.
Be kind.
---
There are many organisations that offer support to anyone affected by pregnancy and baby loss.
ARC offers information and support to expectant parents facing decisions about antenatal tests and results.