19 Aug

Laura's Story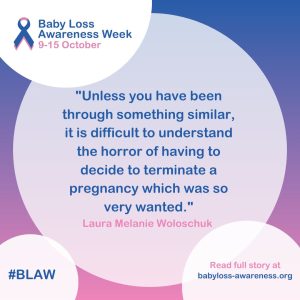 My husband and I were so excited to be expecting our first child this year. After almost a year of trying to conceive, we finally got our dream.
It was at our 20-week scan that the sonographer gave us the devastating news that she could only see two chambers of the heart when there should be four. We were referred to a specialist foetal medicine hospital in Bristol which confirmed our little one had a very serious heart condition called tricuspid atresia.
We made the harrowing decision to terminate our much wanted pregnancy at almost 22 weeks through surgical procedure.
These last few weeks have been the hardest of our lives. Unless you have been through something similar, it is difficult to understand the horror of having to decide to terminate a pregnancy which was so very wanted.
I would give absolutely everything to still be pregnant with our little star. We chose to suffer the pain so our little one wouldn't have to. I have to try and take comfort from that.
Since sharing her story with us in 2020, Laura sadly suffered a miscarriage at 7-weeks in December 2020 and in January 2021, she fell pregnant with her little boy Nathan who is now almost one-years-old.
---
There are many organisations that offer support to anyone affected by pregnancy and baby loss.
Sands supports anyone affected by pregnancy loss or the death of a baby and works to save babies' lives. Contact their Helpline via phone (0808 154 3332) or email, or visit their Support Groups online or via Zoom.
Tommy's gives free, confidential advice from qualified midwives and has a host of resources available for those who have experienced miscarriage or neonatal death.
Visit tommys.org/baby-loss-support/stillbirth-information-and-support.