31 Aug

Laura C's Story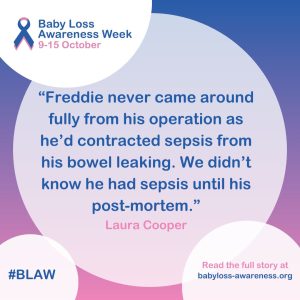 Freddie was born at 24 weeks gestation, and he even cried at birth. He was thriving but at 15-days-old Freddie was diagnosed with Necrotizing Enterocolitis. The consultant who operated on Freddie's bowel said that he'd had this for about a week before it had been picked up.
Freddie never came around fully from his operation as he'd contracted sepsis from his bowel leaking. We didn't know he had sepsis until his post-mortem. Freddie passed away at 17-days-old from sepsis on 7th October 2017. He would have turned five on the 20th September 2022. We love him to infinity and beyond x
---
There are many organisations that offer support to anyone affected by pregnancy and baby loss.
Sands supports anyone affected by pregnancy loss or the death of a baby and works to save babies' lives. Contact their Helpline via phone (0808 154 3332) or email, or visit their Support Groups online or via Zoom.