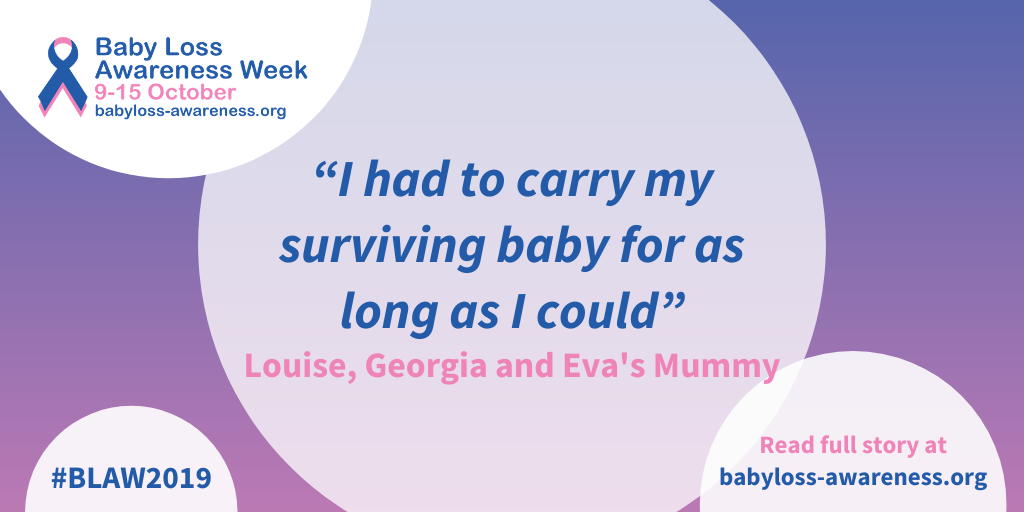 17 Dec

"We had to navigate her birth and our loss of Georgia"

This is the story of Louise and her twin daughters Georgia and Eva. Georgia was stillborn 10 days after a scan at 28 weeks found she had no heartbeat.

In 2017 we found out I was pregnant with twins at an early 6 week scan. At our 12 week scan, we were told that it was identical twins, but throughout the pregnancy we had many ups and downs and constant concerns of uneven growth and fluid around the babies with doubts of both surviving.
We were sent to St Mary's each week for several weeks, but sent back to general ante natal care because it looked like things had evened out.
At 28 weeks though we were told that one heartbeat was gone, and I had to carry my surviving baby for as long as we could. I lasted until 10 days later where my daughter Eva had to to come via emergency section as I was bleeding heavily and beginning labour.
She was taken to NICU where she spent 9 weeks before coming home and we had to navigate her birth and our loss of Georgia. I share my story on how I processed the complex loss of a twin, how I choose to grieve, and how I've healed and gone on to have another baby on Instagram – @helpamummyout