12 Oct

Elsie's Story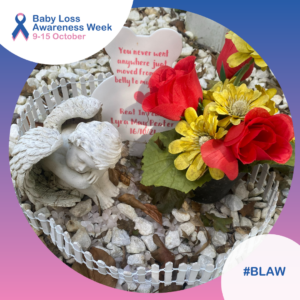 "Her grave is my safe place to connect to when I'm struggling."
Elsie is 18 and experienced two miscarriages, Lyra at 11 weeks and Lionel at 4 weeks, when she was just 16 years old.
Elsie wants to share her story to show that younger mums who have been affected by pregnancy loss aren't alone.
 "The staff at the hospital they were really lovely at the early pregnancy unit. The midwife – when I found out that I lost – she was even crying, but I've found there's no support after you leave hospital. 
 "I tried lots of different places and people. Some were helpful and some not. A lot of places don't feel right for me because everyone was a lot older than me, so I didn't relate with their lives. 
 "People always blame it on me due to my age but it's not my fault and I know that. People just care about my age not my grief. People say at least you were young or at least you will live better. 
 "Having a miscarriage and chemical is really difficult especially at my age as no one understands or can relate. 
 "A lot of people were like you've got the future it doesn't matter. It can feel like sometimes, with older people, they're like 'oh my god, we are here for you' but that support isn't there for a young person. 
 "I'm fed up with 'at least this, least that'. No mum ever deserves that. Every angel mama deserves to have their grief accepted. 
 "Their babies don't deserve to be forgotten about, their babies are valid they existed, they are real, and they happened. 
 "They existed if only for a minute, or an hour, or a week, or a month, or even half a year. 
 "Those babies lived, and that deserves to be known." 
---
There are many organisations that offer support to anyone affected by pregnancy and baby loss.
The Miscarriage Association provides information and support to anyone affected by miscarriage, ectopic pregnancy or molar pregnancy with helpline, live chat, email service and online support available.
Helpline: 01924 200799 (Mon-Fri, 9am-4pm) Email: info@miscarriageassociation.org.uk