10 Oct

Alistair's Story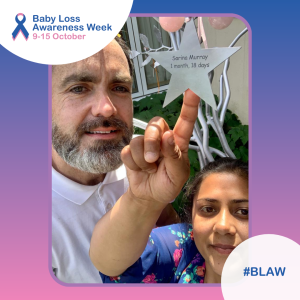 We lost our only child, to necrotising enterocolitis (NEC), aged seven weeks.
Our daughter had also been diagnosed with a life limiting genetic condition at a prenatal screening. Almost 4 out of every 5 babies born with full Trisomy 18 don't make it to one year.
Sarina had grown to five and a half pounds, and developed a beautiful personality after being born several weeks premature. She had almost become independent of respiratory support, and her affected heart hadn't yet required medicine.
We had become confident we could be moved to a hospice or ideally home. By January 2022, visits to the neonatal unit by other family members had not yet been permitted.
At the shock NEC diagnosis, how long we had left together couldn't be predicted. The dreaded end-of-life phase was only a few hours in the end. Our little girl must've sensed the change of mood. We only had a screen for privacy as Sarina died peacefully in our arms.
We cope with our loss by taking the message imparted by other bereaved parents, who advised us early on to continue in our role as parents – and never let that end.
We try to combine our memories with outlets to express our emotions. This includes managing our garden at the grave, having a weekly pocket money jar (we donate to charity), and meeting family on significant days to walk and talk about Sarina.
We worry what people might think but hopefully it will become normal for us, and maybe for everybody else too.
---
There are many organisations that offer support to anyone affected by pregnancy and baby loss.
Bliss – information and support for parents who have babies born premature or sick. 
Email: hello@bliss.org.uk